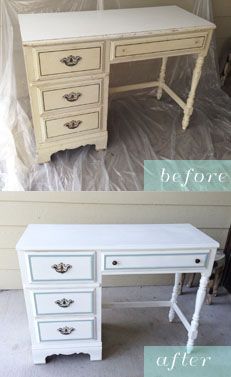 This is a lovely little weekend project for you little DIY'ers out there:) I spent weeks shopping around for a new workspace (desks are pricey, sheesh!) and when I found this gem on Craigslist for $50, I was sold! I love the spindle legs and the hardware is fantastic! It just needed a little elbow grease...
A restoration involving large furniture definitely requires an orbital sander...plus they are always nice to have around! They are very reasonably priced to purchase, or you can also rent them from Home Depot for about $20 for 24hrs. I also used a couple hand sanding sheets for those hard to reach spots.
RUSTOLEUM paint and primer gave us the best results... and is super easy to apply.


*Disclaimer: Spray paint only in a highly ventilated area and wear protection!



Check out a helpful HOUZZ article I found
here
! When giving furniture a face lift there are three important steps: PREP, PAINT and PROTECT. The last thing I did was add an accent color & line my drawers with some fancy shelving/drawer liners and waahlaaa!! The overall cost of the project was definitely in my budget and I think it is a piece of furniture that will last my bloggin' wear and tear!
Signing off from my new desk...:)