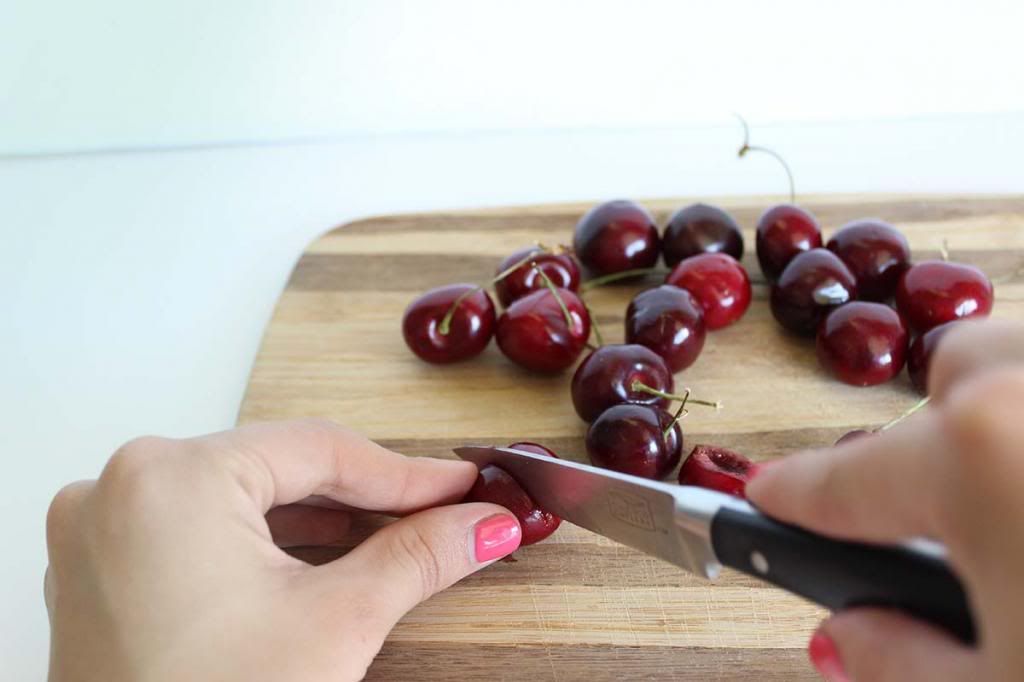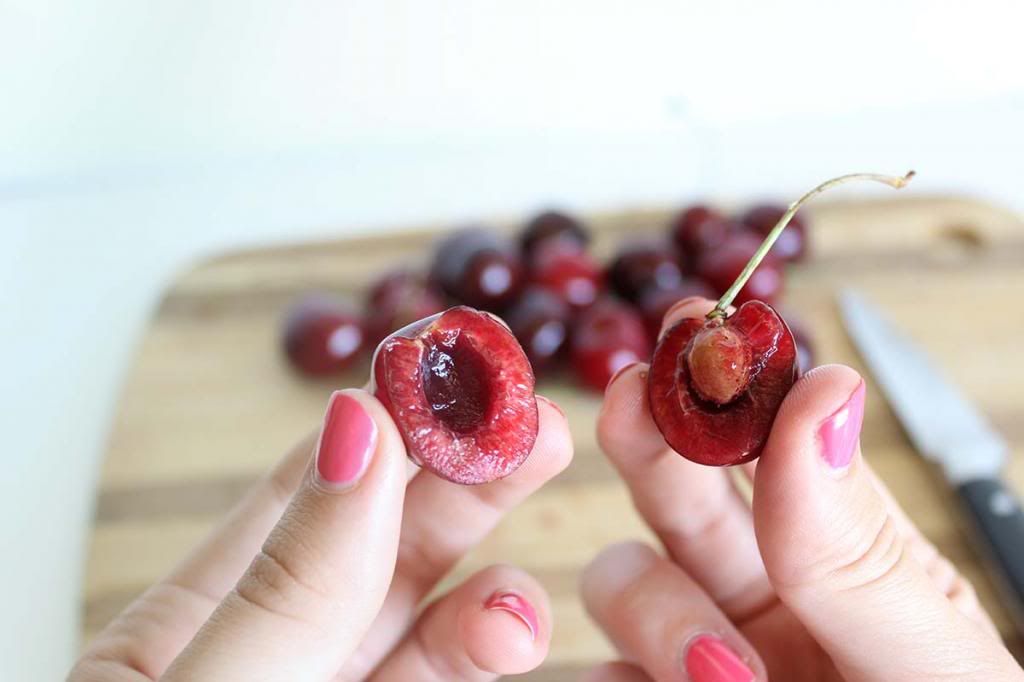 When I told my boyfriend what was cookin' he had no idea what a "crumble" was ...typical. But you ladies know, right!? Another word I would use would be a "crisp"! Call it what you will, this treat is amazing especially when you're using in-season FRESH fruits. This is a perfect summer dish and the cherry almond combo is killer.
If you follow me on instagram, you may have noticed how super excited I am about my new photo gear... I'm not quite ready for the dog/hubby/kids phase of my life so I got a really awesome camera instead:) Photographing and editing this for me was SO fun! I have to resist taking my camera everywhere! Anyways, I hope your eyeballs enjoy themselves...
Now, let's get cookin!
Cherry Filling
1 1/2 lbs (0.7 kg) dark sweet cherries, pitted and halved
1/4 cup (50 grams) brown sugar, packed
2 teaspoons cornstarch
1 tablespoon brandy or dark rum (optional)
Preheat oven to 350 degrees F (180 degrees C). Lightly grease a 10 inch round or cast iron pan.
In the prepared pan, mix the cherries, brown sugar, and cornstarch together until the sugar and cornstarch dissolves. Evenly pour the brandy over the top. Bake for 20 minutes.
Almond Crumble
4 tablespoons (60 grams) butter, room temperature
1/4 cup (50 grams) brown sugar, packed
1/2 teaspoon ground cinnamon
1/4 teaspoon salt
1/2 cup (60 grams) all purpose flour
1/2 cup (45 grams) old fashioned oats
1/2 cup (60 grams) sliced or chopped almonds
In a large mixing bowl, beat together the butter and sugar. Mix in the cinnamon and salt. Stir in the flour, oats, and almonds. The mixture should hold together in your hand when squeezed together. When the cherries have finished baking, evenly sprinkle the crumble over the top. Bake for an additional 20 minutes.
Serve warm or chilled, with ice cream or whipped cream. Keep chilled in the refrigerator.
recipe adapted from Pastry Affair
PS...Ice cream it's mandatory!